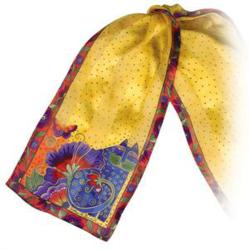 Orange, Ca. (PRWEB) May 18, 2011
Laurel Burch cat fans can save on their favorite Laurel Burch scarves, earrings, and even prints. Krafty Kats Curiosity Shop, an online retailer and treasure trove of unique gifts and trinkets is featuring Laurel Burch cat items in time for spring cleaning and summer vacations.
Laurel Burch scarves in particular are a must-have accessory to dress up any outfit. Full of vibrant colors and this year?s color pick (orange), scarves give a neutral out fit the contrast needed to look stunning. Some patrons even opt for Laurel Burch cat earrings to complement the scarf.
?Fashion trends for summer consist of bright oranges and nude tones. Laurel Burch cat earrings and are perfect accessories to turn a boring outfit into something exciting,? states Susan Kavner with Krafty Kats Curiosity Shop.
Laurel Burch cat prints and designs feature a signature cat surrounded by bright, beautiful hues of reds, golden yellows, oranges, purples, blues, black, and other rich colors. Scarves are made of silk and sometimes have beading or fringing.
?Scarves are very rich?nice to touch and even more beautiful to look at. Our customers who buy the scarves also buy Laurel Burch prints so they can showcase Burch?s talent in their homes,? continues Kavner.
Laurel Burch prints can be purchased online at Kavner?s shop online, as well. Available prints include ?A bunch of Love,? ?Blossoming Spirit,? and ?Feline Family.? Prints do sell out quickly. Kavner states that anyone interested in a Laurel Burch print can contact the shop at contactme@kraftykatscuriosityshop.com to discuss obtaining one.
?As we go through our summer clothes and home d
Category: Cat News