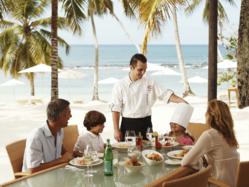 New York, NY (PRWEB) March 01, 2012
The Leading Hotels of the World are renowned for their service and attention to the needs of sophisticated travelers, and these thoughtful expressions extend to even the youngest of guests, with special kids? clubs and children?s programs.
Among the many Leading Hotels that have created special, value-rich packages, here are just a few:
Celebrating the 2012 Olympics, the 200th anniversary of Charles Dickens?s birth, as well as Her Majesty Queen Elizabeth?s Jubilee, London is alive with attractions for the entire family. And as befits a hotel bearing the Royal Warrant, The Ritz London accords its young lady guests with truly royal treatment. On arrival, a girl can become a member of Kidz@TheRitz which outlines her ?Very Important Princess? status! Her benefits are tempting and include a welcome goodie bag, milk and cookies on turndown, and in-room children?s amenities of bathrobes, slippers and toiletries. She will also be able to consult the Teen Concierge who can assist her with any special requirements that she may have. Her exciting day begins with the mother and daughter arrival at the hotel and a visit to the Ritz Salon where both will be treated to a manicure. They will then relax while enjoying a fruity drink for daughter and a cocktail for mother in the Rivoli Bar, before a delicious three course meal in the magnificent Ritz Restaurant. It?s tiring being a Princess, so the day will be completed in their exquisitely decorated room. A traditional English breakfast will follow the next morning. Valid through June 2012, the Princess for a Day offer is priced from GBP 430 per night. Please refer to booking code SX. http://www.LHW.com/RitzLondon
The Grand Hotel Excelsior Vittoria is the perfect destination when travelling with kids. Surrounded by a five-acre park with orange and lemon groves, the hotel offers a children?s playground equipped with amusements to appeal to children up to 12 years or age, as well as a children?s pool, a soccer field and a basketball court. Capitalizing on its excellent location ? surrounded by historical sites, overlooking the Bay of Naples and Mt Vesuvius, and close to the Amalfi Coast ? the hotel offers a variety of programs to keep entire families engaged and entertained. For example, a family of four can take advantage of the Cooking, Snorkeling and Fun for Kids program that runs from May through October. Included are welcome amenities, round-trip airport transfers, a pizza cooking lesson, half-day private guided trip to Pompeii, a half-day snorkeling excursion of the Sorrento Peninsula, dinner for four one evening, and additional discounts on meals, spa treatments and spa products. Rates start from EUR 960.50 per night for a family of four, with a four-night minimum stay. Booking code is P9. http://www.LHW.com/Vittoria
In keeping with the resort?s water theme, Acqualina Resort & Spa on the Beach in Sunny Isles, Florida, has created a unique marine biology-based program designed especially for children ages 5 to 12 years old. Among the multiple components are: Acqua Patrol, an adventure in sea service to let kids explore the world of the Coast Guard; Junior Guards, giving young guests the opportunity to experience what it takes to be a lifeguard, with a simulated pool rescue and First Aid Olympics; Whimsical Waves, investigating the anatomy of waves and the effects they have on our environment; City Under the Sea, focusing on the importance and value of a coral reef ecosystem; Wonderful World of Whales, teaching children about these amazing sea mammals, examining the different types and the characteristics that make them unique; and Sharks & Rays, a group exploration, ?Is it a shark or is it a ray?? In addition, Acqualina boasts a 500-square-foot well-equipped and supervised AcquaMarine-themed center which features a computer and technology area, arts and crafts center, toys, microscopes, movies and video games. The hotel offers a Leading Families package which provides 50% off second room for children and or grandparents and nannies, a daily USD 40 spa treatment credit per person up to two adults, complimentary Internet access, and the AcquaMarine children?s program. Depending on the season, rates start from USD 375 per night. The booking code is P9. http://www.LHW.com/Acqualina
In addition, many Leading Hotels offer well-designed facilities and creative activity programs to entertain, engage and educate the young ones.
There is no place better in the Caribbean for family vacations than Casa de Campo! With so much to do, everyone in the family is sure to have a wonderful time. In addition to the beach and sports facilities where children can take a lesson alone or with a parent for a great bonding experience, Casa de Campo also features four fee-based, supervised programs broken down into age ranges including baby care. Available on a half-day or full-day basis are toddlers? programs with treasure hunts, fashion shows, space exploration, and mural painting. For ages 4 to 7, activities include mini kayak rides, Altos de Chavon scavenger hunts and museum visits, and obstacle races; and for ages 8 to12: tennis lessons, horseback riding, taekwondo lessons, twister contests, and banana boat rides. In addition, there are evening offerings: Kidz at Night and Tweens at Night, both from 6:00 to 11:00 p.m., which include dinner as well as age-appropriate activities. The Bonche 4 Teens Club, an exclusive club supervised for ages 13 to17, is available on a complimentary basis for daytime activities, as is the daily programmed Family Fun Time that features dance lessons, sand sculpting, family beach Olympics and more. http://www.LHW.com/CasaDeCampo
Chatham Bars Inn on Cape Cod, Massachusetts has been looking after the next generation of LHW clients since 1992, with fully supervised programs divided into morning and evening sessions, from late June to early September. Activities are organized to cater to four different age groups: Beach Buddies (ages four to six), Clam Diggers (ages seven to nine), Wash-A-Shores (ages 10 to 12) and Wave Runners (ages 13 to 17). Each program has its own room with appropriate furnishings and d
Category: Cat News